HubSpot Live Chat & Chatbot Setup: Chatflows & free website chat setup
Gleaning leads and turning them into converts is an essential business objective. HubSpot Live chat makes achieving that target much simpler than ever - with studies indicating that it is the most gratifying form of interacting with a company.
Moreover, it has been reported to increase conversion rates by 3.84%. Therefore, if you desire similar outcomes for your business, then incorporating Live chat could be an apt option.
Are you looking for the perfect way to make your website more interactive and user-friendly? Look no further! Adding HubSpot Live Chat to your website is a great way to make your visitors feel welcomed and have their questions answered in a timely manner. In just 4 simple steps, you'll be able to have your visitors chatting with you in no time! So what are you waiting for? Let's get started!
What is HubSpot Live Chat?
With HubSpot Live Chat, you can take conversations to a whole new level - a witty, more accurate way of connecting with website visitors that truly matter! It's the perfect way of texting people you want to draw close to. You'll be able to chat with customers on the go, gain their emails, solve any issues, and amaze them with an even better experience.
How to Add HubSpot Live Chat to Your Website?
Are you ready to take your website's customer service and engagement to the next level? HubSpot Live Chat is here to make it happen! In case you need more help with this, try approaching HubSpot management services.
Adding HubSpot Live Chat to your website doesn't have to be intimidating. In fact, with just a few simple steps, you and your customers can be having real-time conversations in no time.
Let's dive in and get started!
Go to your HubSpot portal.

Navigate to Conversations > Chat Flows.

Click on "Create Chatflow" located on the top right of the page.

A window will pop up prompting you to choose between Website or Facebook Messenger.

Select Website and then from the pane, select 'Set up Chat'

Now you see options to style your chatbox. Select the appropriate options and click 'Next'.
Assign the HubSpot users responsible to look after these livechats. Click 'Next'
Select the times when the HubSpot Livechat should appear for your visitors.
In the next screen, preview the chatflow and 'Publish' it.

In the view, you will encounter two drop-down menus asking you to select an inbox and a language:



Inbox

: This Inbox displays any conversation taking place in the Live chat.

Language

: Here it's possible to alter the language of your live chat.
Choose appropriately and then click 'Next'.
With these easy steps, you'll be able to add HubSpot Live Chat to your website in no time and start creating awesome customer experiences. So, what are you waiting for? Get to work and get live chatting. Reach out to professional HubSpot consulting services for additional guidance - we're here to help!
How You Can Customize Your Chat flow?
Let's explore these four distinct parts of your chat flow customization: Build, Target, Display, and Options (You will find these features when you edit the existing chatflow). Join me in exploring these features and discover what they offer!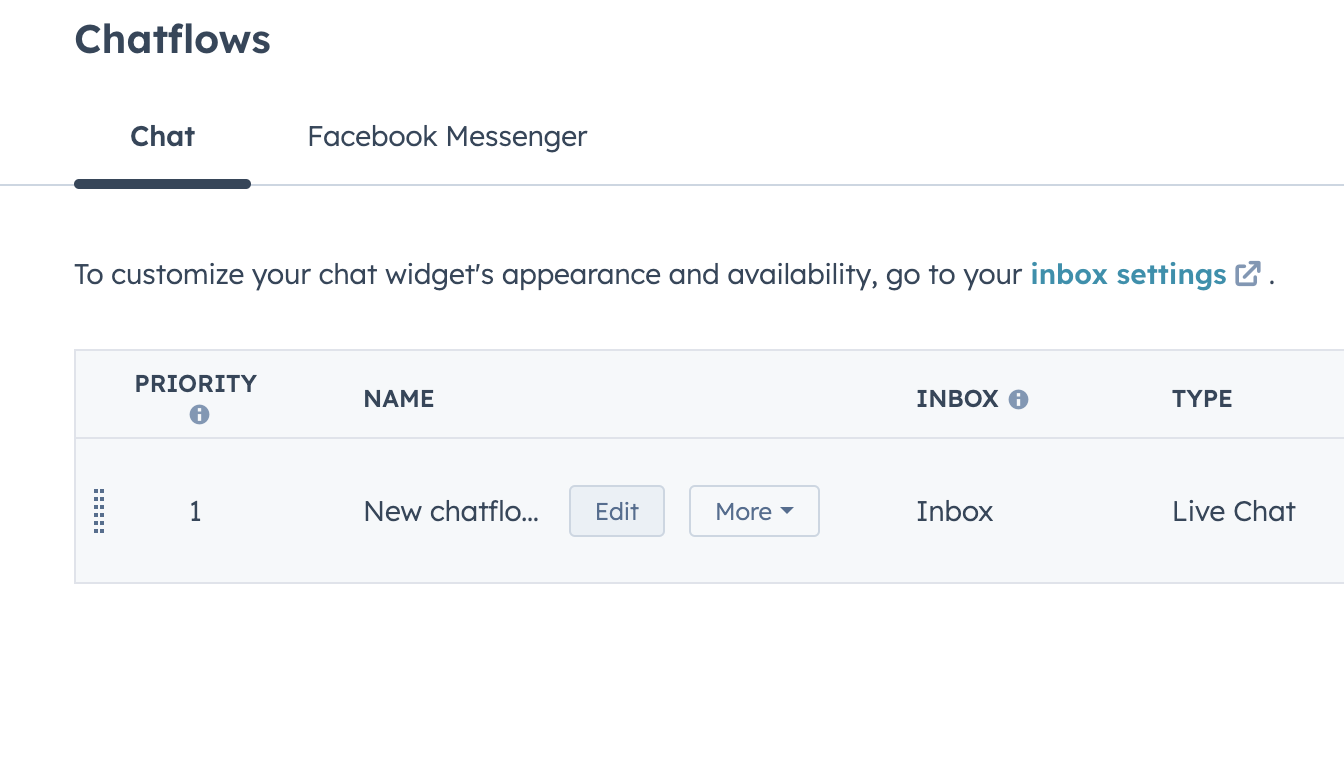 Build
In the Build Section, you can craft a cool welcome message to greet your Live Chat users. Show off your creativity with this greeting, plus you can add additional features in your welcome message like,
Welcome Message: Here you can enter the welcome message you wish to greet a user with.
Enable Knowledge Base search: Users can search knowledge base articles via live chat if they have Service Hub Professional enabled.
Automatically assign conversations: Assign a conversation to a representative of yours to keep track of who is handling which contact. (Service Hub Starter required).
Ask visitors for their email address: You have three choices for when to request an email address,
Right after the initial message has been delivered

In case, none of your reps responds after a minute

You won't be asking for an email address at all.
Email capture message: This section allows you to enter a message that is displayed to your visitors asking for their email addresses.

Once you've completed the Build section, you can move on to the Target section.

Target
The targeting section allows you to choose which pages your chat widget would display. This section provides these features:
Website URL: With a few clicks, you can get the chat widget to appear on the page you want! Simply select the website URL/Query Parameter and choose your targeting rule from the drop-down. With a witty punch, you'll have the chat widget up and running in no time!
Visitor Information and Behavior: Discover the power of having your chat flow tailored to your Contacts and Visitors based on factors such as Device type, Language, Country, and Sessions! With a simple click, you can enable a targeting rule – then sit back and watch the magic happen! But if you want to unlock factors for Everyone, you will need a Marketing Hub Professional plan – it's that easy!
Display
The display section enables you to customize the chatflow's display. In this section, you can adjust the following settings:
Choose Chat Avatar: With this setting, you have the choice of customizing your chat heading with a personal touch. Explore the three options available in the dropdown menu to find the one that suits you best; your choice will be reflected in your chat heading.
Custom Branding: Customize your chat heading by adding a custom image and name.
Specific users and teams: Personalize your chat by customizing the heading with a unique image and name.
Contact owner: They also have an option available to choose a new Visitor Fallback to either display a custom branding or assign them to a designated representative. This will provide more informative and tailored experiences for all of our visitors.
Chat Display Behavior: With this setting, you can alter the look of your chat flow on both desktops and mobile devices. There are three options for you to choose from,
Open the welcome message to be informed of the prompt,
Just view the chat launcher.

When the trigger is met, a welcome message will be displayed and the chat will be opened.

You have the option to select one of three triggers to display the chat flow to your visitors. Choose the one that best suits your needs!
On exit intent: When a user moves their cursor away from the browser tab, the chat will be initiated.
Time on the page in seconds: When a visitor stays on your page for a set amount of time, a chat window will be initiated.
Percentage of the page scrolled: When a predetermined number of pages have been scrolled, a chat feature will be activated.
Options
In the options section, you can explore the choice to alter the language of your chat as well as manage your data privacy and consent with further specificity. Delve further into the options available to you now!
Language: To make sure you have the best experience using our chat flow, you can now change the language used.
Data Privacy & Consent: You'll be getting more than one option here,
Consent to collect chat cookies

: If you don't want the chat to reset, regardless of whether a visitor navigates away from or within your website, you can enable this feature.
Consent to process data

: By enabling this HubSpot chat feature, you can inform customers of how important it is to store and process their personal information.

Consent to communicate

: Inform customers about the type of communication they're allowing with this feature.
Marketing Contacts: "Set up contacts so they're automatically marked as marketing contacts. Check. Do it, and you're ready to go with marketing actions – no extra work needed! It's that easy, and pretty witty if we do say so ourselves."
Collect feedback from chat visitors: You can add enthusiasm to your customer interactions and get their feedback with a CSAT survey. Attach it at the end of your conversation for a cool take on customer service!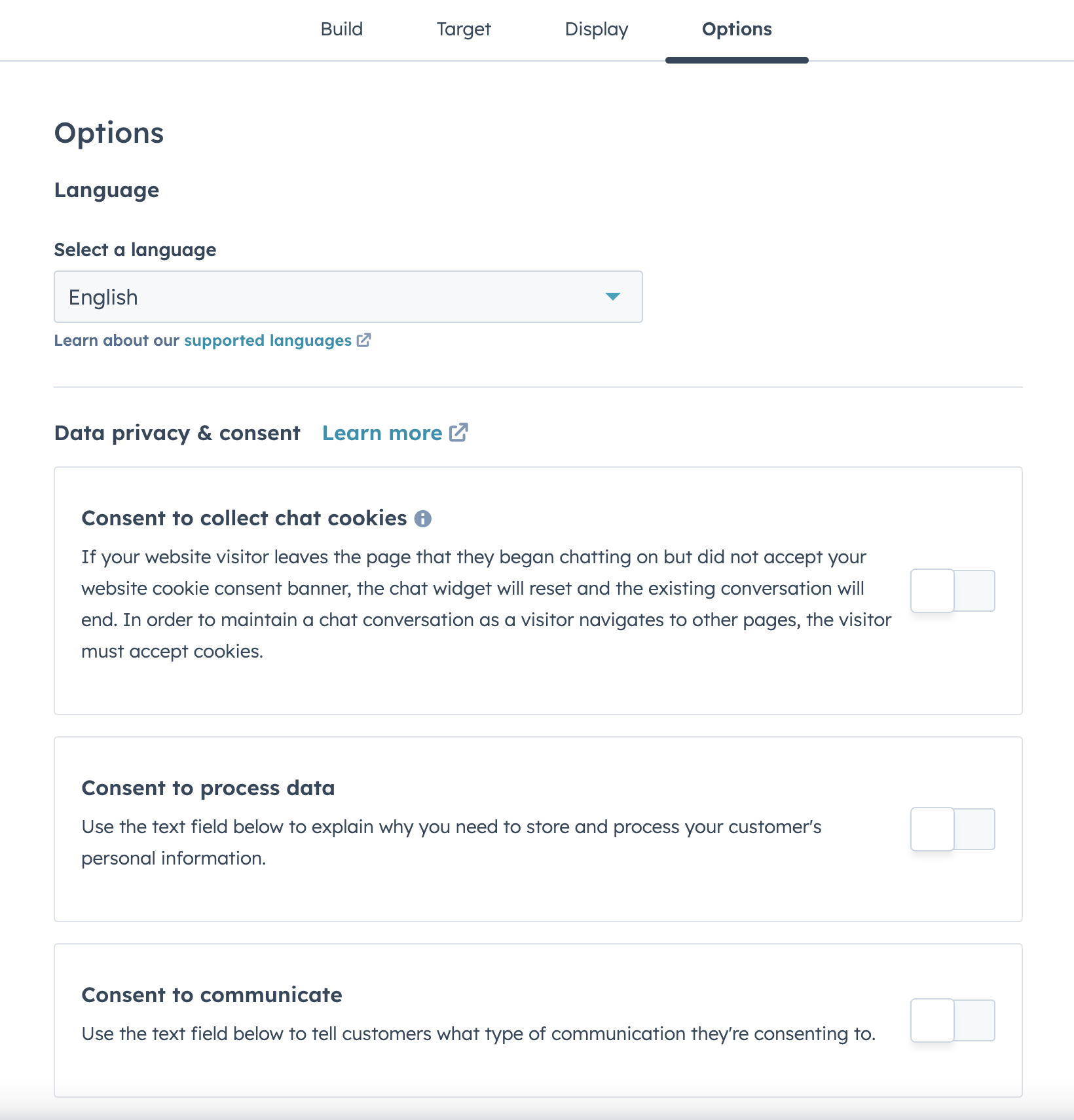 Click the Preview button to check out your chat flow. If it looks great, simply hit the toggle in the top-right corner to publish it and start delighting your customers with the witty conversation! If any of these features have you scratching your head or feeling overwhelmed, don't fret- we've got you covered! Our team of HubSpot and Inbound consultants are here to help you out and get your live chat set up in a flash. So sit back, relax, and let us handle the heavy lifting!
Why Should You Use HubSpot Live Chat?
Are you looking for a better way to engage with customers? Look no further. With HubSpot Live Chat, you can tap into a powerful new tool to help you provide superior customer service. Here's why you should give HubSpot Live Chat a try - because it's time to get witty and smart about chatting with customers!
Real-time Conversations
When it comes to finding the right answers to your queries, HubSpot Live Chat is here to save the day. By routing chats to your reps in real time, you can be sure that your questions will get answered with a sense of authenticity. In fact, 86% of customers value this personal touch when it comes to making a purchase decision. Not only is Live Chat more humanized, but it's also witty and relatable; making it easier for you to get the answers you need in no time.
Engage in amusing, customized chats with the help of a bot
Chatbots and reps can work together in harmony with HubSpot's amazing live chat tool! Set up a combination of pre-programmed questions and answers so your bot can automatically answer any visitor queries. Whenever the query is too complex for the chatbot, it will automatically be passed to a human representative. That's what makes live chat so powerful - the perfect combination of both human and machine to make sure your visitors are always taken care of! Ain't that just awesome?
Need a hand? Let HubSpot's management services give you a lift! Let their guidance help you succeed.
Answer Common Queries Smoothly
With live chat software set up on your site, it becomes much simpler to answer any and all inquiries from visitors. Ponder, for example, that you offer HubSpot Onboarding Services (just as we do). Sure, there are plenty of general queries that come in – such as cost, duration, and requirements, for instance – but having easy-to-use, precise chat software can make it even simpler for users to get the information they need without having to email or file a ticket. Not to mention, any further questions they may have. Visitors to your website can easily ask questions regarding HubSpot onboarding, and they will be answered by one of your reps or, if you have a chatbot with HubSpot, they can get an immediate response.
Delight Users to An Extent
Chatting with your customers has never been easier - thanks to HubSpot chat software! Its user-friendly interface and possibility of fast replies anytime make it a great way to improve the user experience. Plus, you can even set up a custom-made bot, so they can get an instant response 24/7.
With a HubSpot chatbot, you don't need to worry about typical queries -- just craft some witty responses and let it take care of automatic replies for you. Enjoy the cool chat experience with HubSpot today!
Collects Leads Without Being Sleazy
Well, around 91% of marketers have one goal in common - lead generation. But don't worry, HubSpot chat does the trick - getting users to share their relevant information with you. The great part about this live chat tool is that you don't have to do any of the approaches. Users will come to you with their inquiries, and in return for answering their questions, they are more than happy to share their contact info. Ain't that just nifty?
Lead generation with live chat can be even more effective now – no more pressuring customers to provide contact details such as phone numbers or emails before chatting! Plus, the process is comfortable, so your customers will feel more at ease.
Maximizing Lead Generation using HubSpot Live Chat: Best Practices
Hey Chatters, are you looking to master the art of converting leads in HubSpot Live Chat? Let your efforts pay off, as it's time to discover the best practices to collect and convert leads without wasting a minute of your time. Let us show you just how easy it is to get those leads rolling in!
Start Greeting Visitors to Delight Them
Using the Build section of HubSpot's chat flow feature, it's time to get creative and craft a funny, yet insightful welcome message to greet visitors. Ask them how you can help, then give them a chuckle - they'll be sure to remember your chatbot's wit!
Surprise your customers with a custom greeting to get a considerable boost in satisfaction ratings! Plus, by asking them about their problems, you'll get more engagement in return.
Get Their Contact Info
Capture your user's contact info after a successful live chat with HubSpot - it's a must! Reports show that 53% of marketers allocate almost half their budget to lead generation. Need a hand with this? Sure, we'll help!

The Build section of the chat flow feature is invaluable for asking for an email address. However, take it slow; customers loathe feeling like their email address is being demanded of them at the expense of their trust. Your goal should be to win them over with your witty nature, not overwhelm them with offers. Having a solid Inbound Strategy and the right lead nurturing plan will really attract leads without need for demanding visitors to give their details. Interested in learning more about Inbound Marketing? Check out our HubSpot inbound marketing services and Inbound Marketing Guide that will help you make the most out of your ventures!
It's Better To Conduct Feedback Surveys
Don't end your service by helping your customers - it's not a one-time deal! Keep them around with feedback surveys - there's no better way to retain them. It's no joke; make sure you stay connected with your customers.
Invite them to share their opinions with a lighthearted survey — telling us their likes and dislikes, and offering up any suggestions for improvements. Surveys can provide valuable insights into how to maximize the user's experience — use them wisely, and you're sure to have success!
Wrapping Up!
You now have a sound understanding of how live chat can benefit your business - but do you know how to add the HubSpot live chat widget to your website? Here are some interesting facts about live chats that may help you decide to start using them!
Live chat could give your conversions a 20% boost. Want a repeat customer? Well, 63% of people are more likely to come back if you offer them live chat. Plus, it has the highest customer satisfaction rate of all channels, a whopping 73%. There's no better way to keep the smiles coming!
Are you interested in witnessing incredible metrics for your business? Well, look no further than HubSpot Live Chat — a feature-packed solution that's easy to use and absolutely free! Get started today and unlock the full potential of your business.