The Brands Americans Most Intimately Connected to During COVID-19
Now more than ever, brands need to establish powerful emotional bonds. COVID has affected our emotional connection to the brands we use and consumers have been using this unprecedented time to begin new brand relationships and find ways to build bonds with brands. Are you doing everything possible to build intimate brand relationships with customers?
MBLM surveyed 3,000 consumers across the United States to detail their experiences across 10 industries and 100 brands. It modeled data from over 3,000 interviews and approximately 28,000 brand evaluations to quantify the mechanisms that drive intimacy. It is important to note that this research provides more than a mere ranking of brand performance and was specifically designed to provide prescriptive guidance to marketers. The research allows marketers to better understand which levers need to be pulled to build intimacy between their brand and consumers.
Apple ranks 1st overall with a Quotient score is 74.0. 40 percent of users said they could not live without the brand, while 21 percent said they would be willing to pay 20 percent more for the brand's products and services.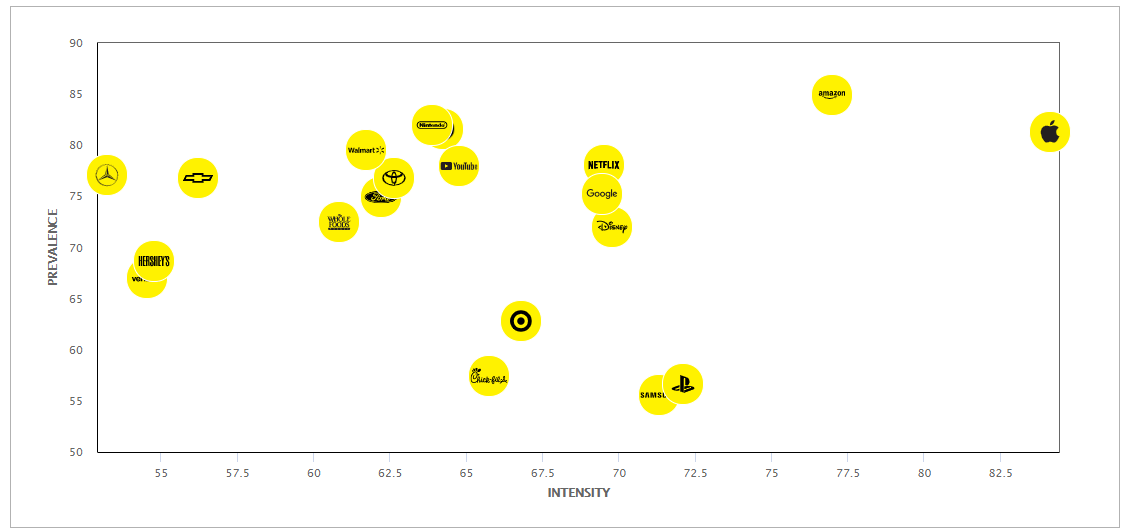 Apple is followed by Amazon, Google, Walmart, YouTube, Toyota, Disney, Netflix, Chevrolet, and PlayStation. The new entrants in the top 10 are Google, YouTube and Toyota.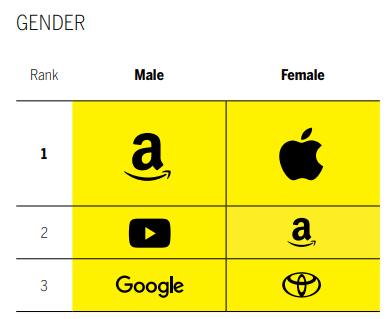 Amazon is the only brand shared among men and women when reviewing their top 3 brands. Previously, women ranked Disney first, while men favored Ford. During the pandemic men formed deeper attachments to brands compared to women; their Quotient scores were on average 20 percent higher.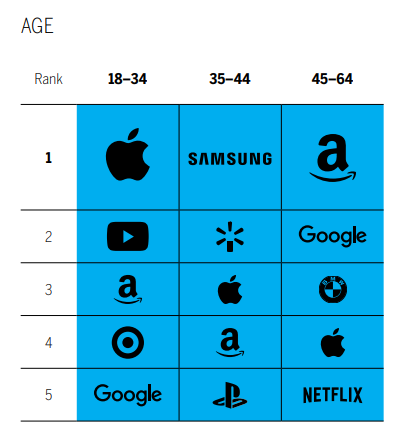 Apple and Amazon are both shared across all ages. Millennials and those aged 35–44 feature 2 retail brands on their lists, and those 45–64 have the most varied top 5, featuring 2 tech brands, 1 retail, 1 automotive and 1 media & entertainment. During COVID, consumers aged 35–44 have had the greatest increase in connecting emotionally to brands. Their average Quotient score rose 28 percent.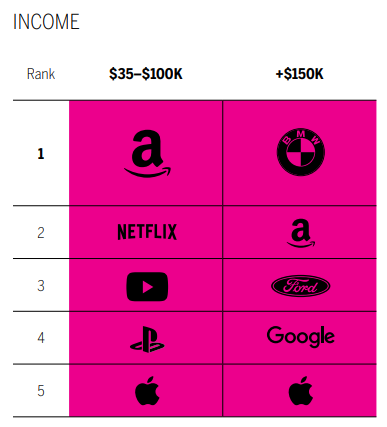 Amazon and Apple are shared across income ranges. Notably, 3 out of 5 of the top brands for those making $35–100,000 are media & entertainment brands while those making over $150,000 had no media & entertainment brands in the top 5, instead preferring automotive brands.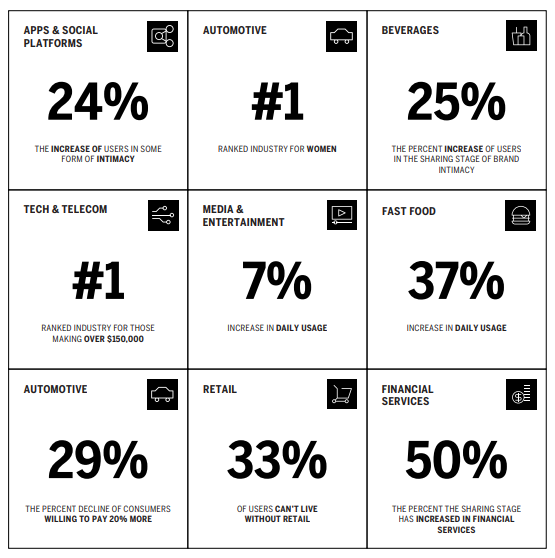 From the above matrix, we can understand that Social Platforms saw a 24% increase of users in some form of intimacy and there was a 50% increase in sharing stage in financial services. On a overall note, industries have understood the importance of brand intimacy during the pandemic and have increased their emotional bonds with customers in one way or other.