4 Important Data Points from Website Analysis for Buyer Persona Development
Buyer Personas are a semi-fictional representation of your customers that help you understand your customers better and effectively plan your key messaging and inbound marketing activities.
In this article, you'll learn how you can use website traffic analysis to develop buyer personas.
How do we develop buyer personas?
Businesses efficient in marketing their products/services know the pulse of their target audience. How is this possible? These businesses know what their customers want, who they are, what they do and so on and have defined personas in place. Businesses use these personas for planning and performing their marketing activities.
Have you ever seen Lamborghini airing Ad commercials on TV? No. Because Lamborghini's target audience - the upper-class car enthusiasts don't sit around watching TV.
But, how do businesses gain this persona information? There are two major ways to collect this data:
Qualitative

research

focuses on group discussions, interviews, individual/group behavior and non-numerical data to gain insights. Qualitative research methods are necessary because they allow companies to understand the "why" behind consumer behavior.
Quantitative research focuses on quantifying the collection and analysis of large sample size to gain insights. Surveys and site traffic analysis (looking at your log files to see how users are moving around your site) are good examples. With hundreds or thousands of data points to analyze, you can look for statistically significant trends and be much more certain that your findings accurately reflect reality for all users. It gives companies the "what, when, and how" consumers are making the purchasing decisions they do.
In the digital world, it is easy to understand audience's online behavior and attributes with Google Analytics. When you know how to find, read, and then analyze this data in terms of creating personas, you can be far more precise about who it is you are trying to reach.
Define the Type of Personas You Want to Create
Keep in mind that many companies may have multiple decision makers involved when a deal size is large. It is essential that you look at the sales funnel, brainstorm about all these decision makers and define personas. For instance, we have recently developed three personas for one of our client who is into SaaS market. The client offers a mobile solution for enterprise customers having more than $1 Billion in revenue. The solution is for supply chain users but requires integration with existing infrastructure and approval from finance team. So, we created three personas - one each for Chief Supply Chain Officer, IT Director/Manager and Finance Director.
With multiple personas, you can create email pushes with different marketing messages to maximize conversions.
How to Use Website Data for Persona Development
Step #1: Start with Basic Demographic Information
To create a persona using website data, start with the basics. The first step is to define your target customer's age and gender.
Using Google Analytics for your website you can navigate to this by clicking: Audience>Demographics>Overview. A list will generate the groups who visit your website the most.
If you are interested in creating more than one persona, be sure to note other higher representing groups as well.

Pro Tip: Make sure you select only the relevant pages to get the right information from Google Analytics. You can achieve this by creating Segments with page view conditions as filters.
The Geo/Language section is useful to understand where your customers live and what languages they speak.
You can find these filters by going to Audience>Geo>Language OR Audience>Geo>Location.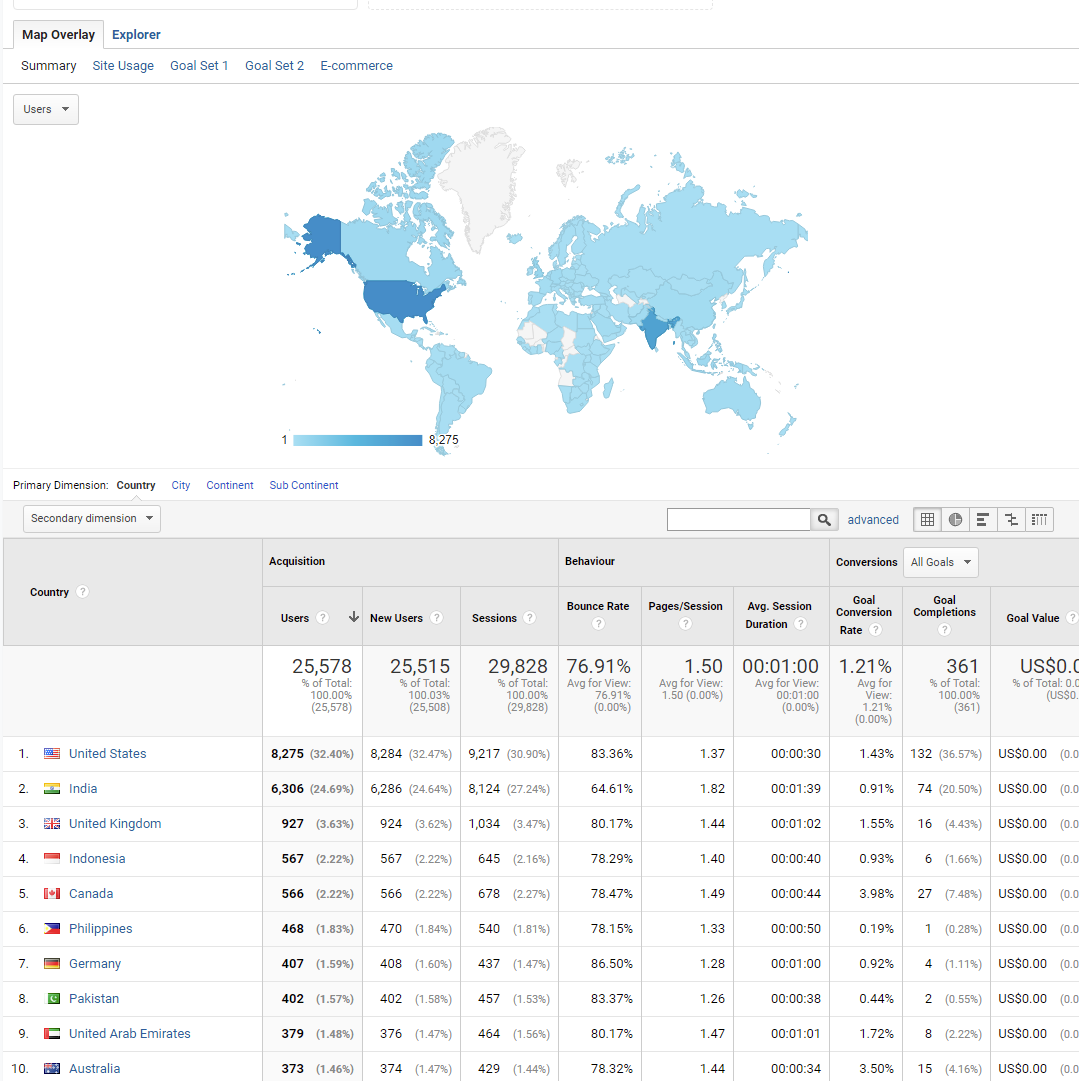 Step #2: Know the "Affinity Categories"
The next step is to take a look at the affinity categories.
Google Analytics records and analyzes a user's browsing history, time spent on certain websites, time spent on subpages of a website, etc. and associates a affinity category to a specific interest or lifestyle of that user.
An example of an affinity category would be "Media & Entertainment/Movie Lovers."
Learn more about how affinity categories work here.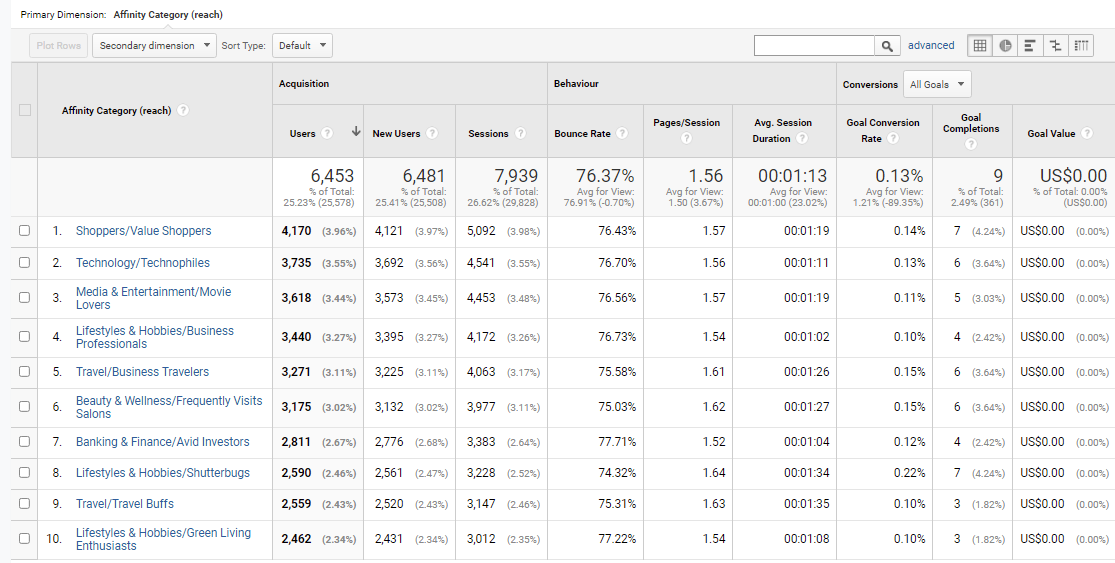 Step #3: Utilize the "In-Market" Section
The next chunk of data to use in creating a persona is the "In Market" section in Google Analytics.
This data shows you the consumers who are actively researching products and services that are similar to your business.
While this may not jump out immediately as important for creating personas, we have found it to be incredibly helpful in offering insight into the behavior of our target user.
Find this by navigating to Audience > Interests > In-Market Segments.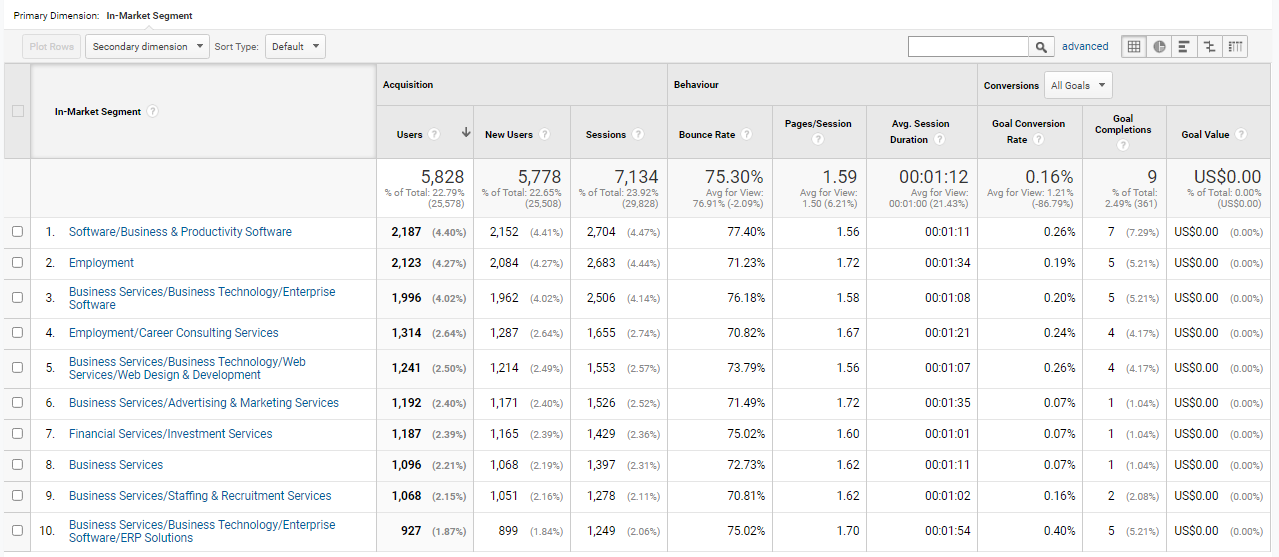 You will gain a better understanding of not simply who is visiting your website and searching around, but who is actually converting.
Tip: Separate these people into their own persona as you develop remarketing and other strategies for repeat business. Keep in mind that you can use the same data to create multiple personas, meaning one "person" can help you create the persona for the top of your funnel as well as the bottom.
Step #4: Check the Device Usage
Lastly, by knowing whether they are using a desktop, mobile device, or tablet, you can get a better understanding of devices people are using to learn about your company and tailor your marketing strategies accordingly.
Find this data by navigating to Audience >Mobile> Devices.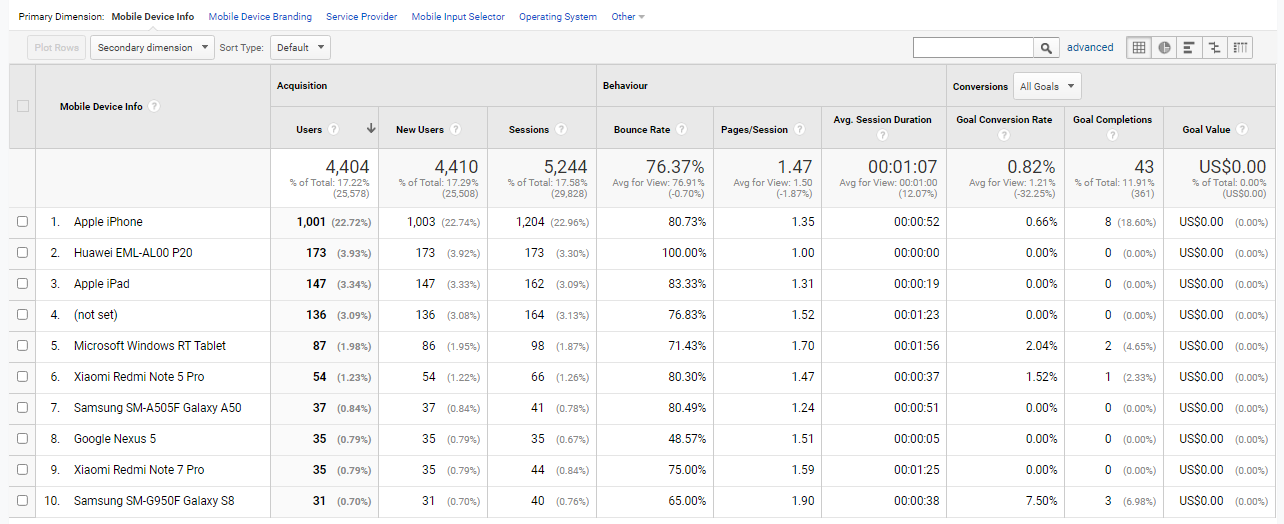 Building Your Marketing Persona
Once you have recorded and analyzed the data pulled from Google Analytics, you can build your personas. Here is a buyer persona created for one of our clients.
Persona Name: Technology Tom

Age: 30-45

Location: USA

Gender: Male

Job Title: Vice President - Technology, IT Director, CIO

Affinity: Technophiles

Job Responsibilities:

Leading business units that drive innovative and strategic thinking for the company, such as enterprise architecture, innovation management and R&D.
Holding the decision-making authority for innovation-driven technology investments.
Ensuring internal and external systems are safe and secure as well as running and performing as they should, by actively monitoring and responding to incidents that might affect highly available and performant systems.
Assisting in developing the vision and roadmap to execute current and future company goals and objectives to provide the best technology.
Be up to date with the news about ERP they use and learn/implement third party integrations that can help achieve employee productivity.

Goals:

Creating a vision of what is possible in leveraging technology
Aligning technology with business strategies
Identifying & Adopting new solutions
Modernizing legacy applications

Current Barriers and Challenges:

Partner reliability
Timely project delivery: IT projects are very bad at timeliness
Budgetary constraints
Looking for competent technology people based on the installed base
Looking for partners that can help offer the entire stack of technology install base

Regularly visited websites: CIO.com, IDC, Forrester

Top Marketing Channels: Organic Search, Email Marketing, Twitter and LinkedIn
The Takeaway
To do Marketing effectively, you need to have a deep understanding of your customers. Google Analytics allows companies to visualize visitor data, define personas and ultimately achieve business goals.
In short, understand your audience and watch your sales grow!!