Are you ready to supercharge your marketing efforts and skyrocket your sales? Look no further than HubSpot! This one-stop shop for your business needs provides a comprehensive suite of tools to help reach your goals and address your needs - whether they be big or small. After all, why not Go HubSpot and get ready to say "hub-bub-bye" to your current marketing woes?
HubSpot is revolutionizing the way businesses interact with their audiences, and you don't want to miss out on the fun!
What is HubSpot?
Have you ever heard of HubSpot? If you haven't, then you've been missing out on one of the hottest tools in digital marketing. HubSpot is an all-in-one marketing platform that's changing the way businesses market, sell, and service their customers.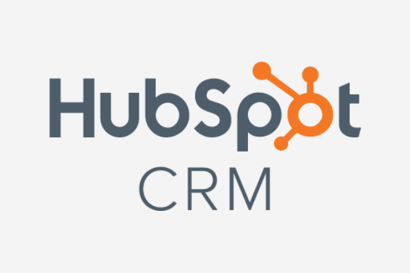 At its core, HubSpot gives you the power to track and measure your marketing efforts so you can better understand how to optimize your campaigns and maximize your ROI. With HubSpot, you can create targeted campaigns designed to engage and convert your audience. You can create targeted emails, smart content, targeted social media posts, targeted landing pages, and even targeted ads – all within this single platform.
Beyond tracking and measuring your campaigns, HubSpot also offers a wide range of other features such as contact management, a website builder, a content editor, analytics, and even a customer service module. HubSpot also helps you to create customer segments, develop customer personas and create custom audiences.
Never before has the marketing process been so streamlined, efficient, and effective. The entire process from start to finish is handled with precision and accuracy. Stores, marketing consultants, digital marketers, and other business owners can all benefit from the simplicity and power of HubSpot.
You can try out HubSpot Inbound consulting services for more details!
Who's HubSpot For?
So, who's HubSpot for? If you're looking for something to boost your marketing and sales strategies, give HubSpot a shot!
Everyone can be included in HubSpot's amazing arsenal of tools - no one's left behind!
Marketing Teams

Sales Teams

Customer Service & Support Teams

Web Development

Operations Teams &

Business Owners, of course.
This all-in-one platform offers a suite of tools that make it easier for businesses to increase leads, convert customers, and close deals. HubSpot's automation capabilities and customer relationship management (CRM) help strengthen your presence, whether you're a new business or an established brand.
It's easy to get up and running with HubSpot – full of features and easy-to-understand tools. With so many customizable and advanced analytics, no matter your budget or level of expertise, you can tailor HubSpot to your business goals.
No matter the size of your business, you can create and deploy content, segment contacts, and deliver emails in an efficient and automated way. Plus, with HubSpot's marketing and sales features, you can find, nurture, and close leads in one centralized location.
On top of its comprehensive suite of digital marketing and sales tools, HubSpot also offers a variety of educational resources to help educate people on best practices. Through its online courses, webinars, and certification programs, you'll have no shortage of ways to make sure you're getting the most out of the platform. You can try HubSpot marketing services for professional help!
Why Go HubSpot?
Now that, you have got a brief overview of HubSpot, let's get down to some of the essential features that make it stand out!
Intuitive and Clean User Interface
At the heart of HubSpot's user interface is its intuitive navigation system. All the tools and applications that you need to drive your campaigns are easy to find and can be accessed with just a few clicks. No more hours of digging through confusing menus and windows to find the feature you need! Plus, with HubSpot's contextual sidebar menu, you can quickly jump between sections to make sure that every step of the process is easy and efficient.
HubSpot's user interface is extremely clean and streamlined. Rather than being overwhelmed by a myriad of choices, you get a simplified menu that only contains what you need to get your tasks and campaigns done correctly. This is great for those who don't like to be bogged down in detail or those who need to move quickly between tasks. Also, HubSpot offers plenty of customization options so that you can turn your user interface into a platform that reflects your brand. From custom color schemes to custom logo uploads to various customizable themes - you can truly craft your platform to fit your own personal or business style.
All-In-One CRM Platform
HubSpot is an all-in-one toolbox that helps you manage your marketing, sales, and customer service activities in one easy-to-use platform. From creating and hosting websites, automating lead-generation activities, nurturing and scoring leads, building customer relationships, understanding customer needs, and powering customer service teams, HubSpot does it all.
There's a lot to love about HubSpot. It helps you manage your customer relationships efficiently and accurately, saving time and money. It also helps you personalize and streamline your communication with customers, both through individual interactions and automated processes. Plus, HubSpot's integration capabilities allow you to connect to a myriad of third-party software, so you can really reap the benefits of all that HubSpot has to offer.
But, perhaps the best thing about HubSpot is that it's simple and easy to use. It has an intuitive user interface, makes it easy to understand the data it provides, and provides a ton of helpful resources to help you get the most out of the platform.
Customizations
Create customizable objects with HubSpot CRM— tailored to best fit your unique business needs, making HubSpot CRM the best platform to manage your business. Companies in industries such as Manufacturing, Technology, Education, Human Resources, FinTech, Advertising, Healthcare use HubSpot and customize it to manage their customer relations.
Beyond contacts, companies, deals, and tickets, you can create custom objects that fit whatever you need – like calls or products. And with custom properties and associations between the objects you create and the existing objects, customize the views however you want. Get creative and enjoy the limitless possibilities of HubSpot's new feature!
For more precise approach, try contacting HubSpot services from HubSpot partner agencies!
No-Code Customizability
Imagine being able to access all of HubSpot's templates, tools, and themes without having to write a single line of code. That's what this new feature brings to the table. All you need to do is drag and drop the elements you want, rearrange them just the way you like, and you're done.
We know that building a website can be complicated, so HubSpot has made sure that nobody gets left behind with this feature. Whether you're an experienced developer or a novice, you'll be able to customize and create your perfect website in just a few clicks.
And to top it off, there's no need to worry about future maintenance: HubSpot does it for you. Just make sure you give them the necessary information, and you'll be able to compete with any of your competitors in no time.
So tell your web developer friends to take it easy, because now you can make HubSpot work for you without ever writing a single line of code. Exciting, right?
Extensive Marketplace
The HubSpot App Marketplace is extensive, offering users 1000+ integrations to maximize their tech stack! From analytics to e-commerce, webinars to calling, and everything in between, you can connect your system to other tools to enhance your customer experience. Get ready for some serious business engagement with the integrations available in the HubSpot Marketplace - LinkedIn, Zoom, Asana, Salesforce and many more! Other than the integrations, Marketplace offers access to hundreds of website templates needed to build websites faster.
Wide Partner Network
HubSpot offers an enviable variety of partners to help with your strategic planning, marketing automation, and streamlining operations. With over 6000 partners, your firm can benefit from the know-how of HubSpot partner specialists in migrating from other CRMs, onboarding to HubSpot, putting HubSpot in place, consulting for HubSpot, setting up HubSpot CMS and Design Manager, as well as offering aid with HubSpot tools! Efficient and cutting-edge, these partners make it easy to drive your business expansion.
Reliable Support
Have you ever encountered a problem while using HubSpot? Don't worry, you're not alone. Whether it's a faulty feature or a confusing user interface, HubSpot has seen it all. That's why they offer reliable support services to their clients. You can rest assured that if something does go wrong, HubSpot has your back.
The support team is friendly and knowledgeable and can quickly get to the root of the problem. Still, feeling a little apprehensive? No sweat; HubSpot has great customer ratings. HubSpot has made it a priority to ensure its customers get the best service possible.
HubSpot support got it covered: chat, email, knowledge base, community, and phone support make it a snap for teams to get the most out of the products - no matter the question! This is cleverly easy and convenient. So don't be afraid to give HubSpot a shot. With its amazing features, unbeatable customer service, and reliable support, it's a great choice for anyone looking for a dependable CRM.
Covering startups to enterprises
Start-up businesses, rejoice! HubSpot has a program just for you, in partnership with various incubators and venture capitalists, offering up to 90% OFF all HubSpot pricing plans for upto first three years, so you can get maximum access to tools and save money!
Apart from that, HubSpot also delivers all the tools enterprises need with a witty twist. From custom objects, Single Sign On (SSO), Email Health Reporting, and Business Units, to Dedicated IPs, Hierarchical teams, Custom Behavioral Events, Reporting Dashboards, Sandbox Environment, Account-Based Marketing Tools, Field-level permissions, and custom databases - everything an enterprise could ever want!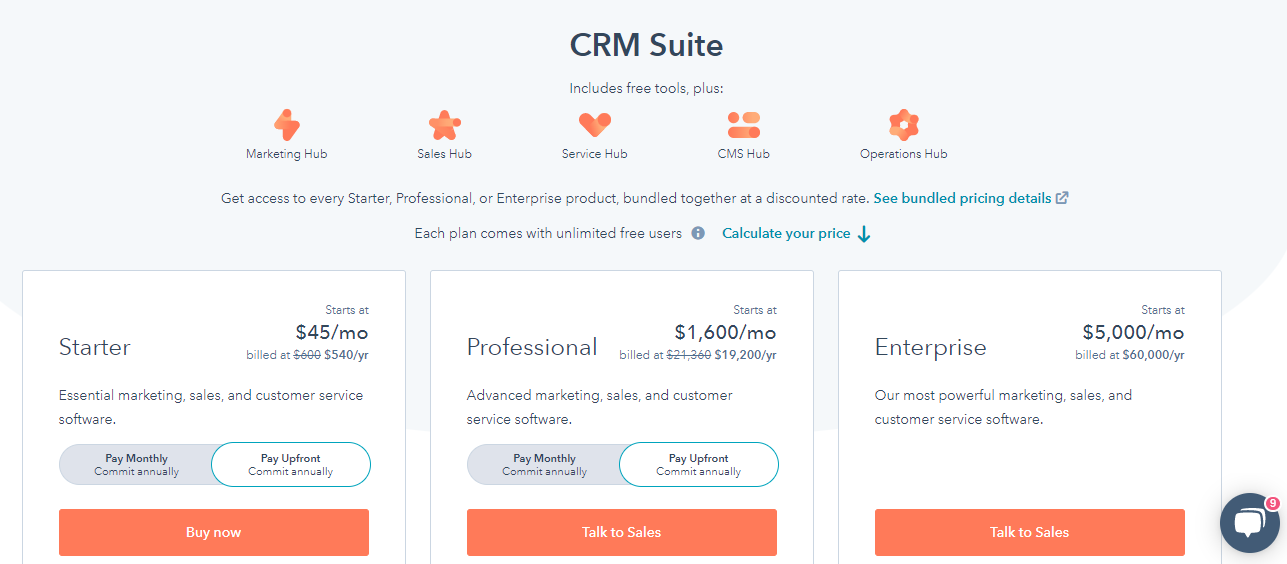 They've got the winning result! Their customers spoke and HubSpot came up trumps in the G2 poll for best enterprise solution ⏤ and it's why the likes of Trello, Soundcloud, Loom, Reddit, and even the University of San Diego have chosen them for their teams. What can we say? When it comes to enterprise needs, HubSpot's got it all wrapped up!
Final Thoughts
Try HubSpot and experience the magic of being in control. Don't just take our word for it – try it yourself and see the amazing results that HubSpot can bring to your business! Not only is the software incredibly intuitive and user-friendly, the team of experts and the platform itself are always there to help you succeed. Sounds like the perfect combo – so go to HubSpot and stay on top of your game!